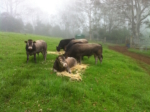 Short Business Description
Carabeen Beef operates from a farm in the Border Ranges where we run a Bazadais stud & a paddock to plate operation. Our business supplies our premium grass-fed beef directly to our private customers & bespoke restaurants. Our beef is free of hormones, antibiotics & chemicals.

The meat is Bazadais Angus cross, combining the best eating qualities of both breeds - it is finely grained, lightly marbled, tender beef. All cuts are dry & wet aged (excluding sausages & mince), & presented cryovaced for convenience. Our customers also have the choice of continuing the wet-aging process if they desire. Occasionally the delicacy Bazadais veal is also available. Meat is sold in wholesale & retail quantities, prepared by master butcher, Gary Middlebrook of Elite Meats, Boonah.
Long Business Description
Wholesale quantities are either as a quarter, a side or a whole carcase, available to restaurants and private customers. A quarter is usually around 30kg and includes all of the cuts, with some mince and sausages. Sausages are flavoured with tomato and onion and all sausages are gluten free. They are a 95% beef sausage. Each quarter is prepared according to the customers' instructions. Bones and offal (if available) are complimentary.
Meat availability is publicised in our monthly newsletter and on Carabeen Beef FaceBook page. We are very happy to answer questions on how best to prepare the different cuts or ideas on cooking. We ran a restaurant in Brisbane for 4 years so sharing our love of food is part of the service!
Business Address
PO Box 62 Killarney Q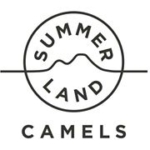 Long Business Description
Farm Tours | Cafe | Skin Care | Camel Dairy | Camel Rides | Camel Products | Events
Cuddle a camel, enjoy a camel-cino and take a fully guided tour of our farm!  Summer Land Camels is Australia's first commercial scale, sustainable and ethical camel dairy.  Over 800 Australian Camels graze on our lush native pastures grown in our volcanic mineral rich soil. Sustainable production of Camel Milk and Camel Milk products are our passion at Summer Land Camels. We want our customers to experience the richness and beauty of our farm through our products.
Check our website and Facebook page for opening hours.
Business Address
8 Charles Chauvel Drive, Harrisville
4307