Camel Milk Skin Care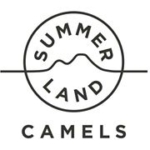 Business Genre:
Animals, Camel Milk Skin Care, Camel Products, Camel Products, Camels, Catering, Coffee, Farm Tours, Food Production, Gifts, Health Food, Lunch, Wedding Venue
Long Business Description:
Australia's first commercial scale camel dairy. Sustainable & Ethical. Farm Tours, Skin Care, Dairy Range, Gourmet Butchery. We focus on ethical, sustainable and organic farming principles. Over 550 Australian Camels graze on our lush native pastures grown in our volcanic mineral rich soil. Sustainable production of Camel Milk and Camel Milk products are our passion at Summer Land Camels. We want our customers to experience the richness and beauty of our farm through our products.
Our founders began researching the health benefits of camel milk and farming over 16 years ago. Today we have over 30 years of unrivalled experience in biodynamic holistic farming techniques and land regeneration to build a resilient farm eco-system without the use of chemicals, insecticides or pesticides. Partnered with a deep understanding of the health and immune system, everything we do is fundamentally rooted in expertise and with the clear intent to optimise the health and well-being of our camels and our customers.