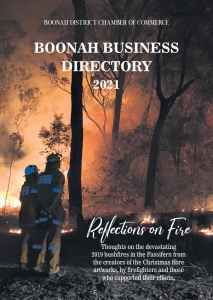 Our new Business Directory is now launched and in Boonah stores – which marks the coming close of 2020. The past year started off with drought in our region, which continues today, followed by bush fires and capped off with COVID-19, which continues to have an effect into the final weeks of the year.  With all the adversity and challenges that 2020 has brought to our local businesses, it was great to see our business community come together and support each other through the difficult times.  Once again, the resilience and determination of our region has shone through.
The events of this year have also had effects on our organisation in various ways restrictions affecting the ability of member's meetings to occur. This meant that there were only four Member's meetings this year.
For much of the year events were impacted and cancelled because of COVID-19 restrictions including some very long-standing events such as the Boonah Show and other important events including the Centenary celebration of the Boonah War Memorial.  Despite this being a very unusual year, Boonah District Chamber of Commerce has continued to work with community groups, businesses, locals and our politicians to improve and promote our region.
We were able to have an impact by joining the community to save our airfield, and a five year extension has been granted to BAI to operate Boonah Airfield from September 2020.
In August 2020 the Chamber conducted a survey of the local community regarding shopping facilities and visitors to seek their views on the region –  what experiences they were looking for, what would encourage them to stay longer. Also why did they visit, how Boonah can be more accommodating to them as a visitor.  The surveys have been collected, will be analysed and reported back to Members so that they can act on the findings.
The Christmas Street Festival will not be run this year as it has in previous years. Various options were considered by your Executive however due to the numbers of people who usually attend and the requirement of the State Government for COVID Event Planning, it was decided that we needed to compromise. Chamber has received a Grant from Federal & State Governments under the Bush Fire Recovery which will be used to part fund the Business Directory & COVID allowing a community celebration mid 2021.
To celebrate Christmas and bring some Christmas cheer to the main street of Boonah, there will be roving street entertainers on Monday 21st, Tuesday 22nd and Wednesday 23rd December with 3 x 30 minute roves between 10am to 1pm.  Details here.
Thanks to our Executive Committee for their hard work and leadership during this difficult year:
President Bruce Trevena
Vice President Wendy Creighton
Secretary Margaret Fry
Treasurer John Stone
Member Wendy Briner
Member Vicky Maynard
Member Julie De Visser who retired to nominate as Councilor for Division 5
We were pleased to welcome two new Members to the Executive in July 2020
Member John Brent
Member Richard Stanfield
https://boonah.org.au/wp-content/uploads/2020/12/Business-Directory-final-2_01.jpg
1264
898
Kate
https://boonah.org.au/wp-content/uploads/2017/11/boonah-logo-png.png
Kate
2020-12-02 15:11:57
2020-12-02 15:14:02
Year in Review – The Challenges of 2020