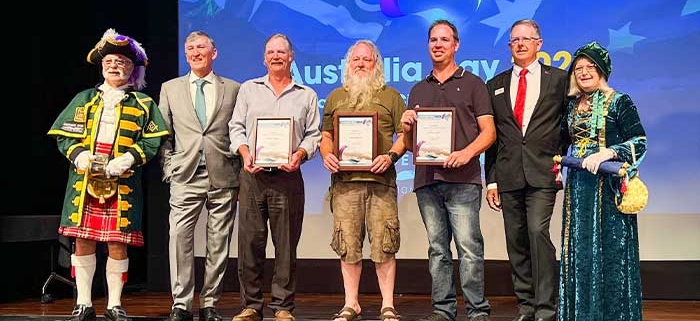 Three outstanding individuals and a local event which brought the community together in the spirit of inclusion have been celebrated at the 2023 Scenic Rim Australia Day Awards today.
The awards, presented at The Centre Beaudesert before a citizenship ceremony which welcomed the Scenic Rim's 23 newest Australians, honoured the contribution of grassroots groups and quiet achievers who are at the heart of their local communities.
Scenic Rim Mayor Greg Christensen said each of the nominees should be proud of their achievements and the high regard in which they are clearly held by others.
"Whether through local service organisations or sporting groups, or simply by being ready to lend a helping hand to others in need, their example of selfless service should be an inspiration to us all," he said.
"I am grateful to all those who took the time to nominate someone they felt well worthy of recognition because it is the contribution of these community champions, year-round and often over many decades, that makes our region such a great place to live and raise a family.
"Scenic Rim Regional Council is proud to present these Australia Day awards, recognising that those who give so much to their community also contribute in their own way to our uniquely Australian way of life.
"As the panel of judges reflected on the diverse nominations and the year that was 2022, they were inspired by the devotion and compassion that is affirmed through the efforts of all nominees."
Nominations for the 2023 Scenic Rim Australia Day Awards were received in three categories, Community Event of the Year, Scenic Rim Citizen of the Year (31-65 Years) and Scenic Rim Citizen of the Year (65+ years).
The Mayor's Award, chosen from all nominees, acknowledged the achievement of an exceptional individual across all categories.
"This award recognises someone who has made a significant contribution to their community over many years, without any thought of personal gain, and provides an example we should all aspire to," Mayor Christensen said.
"While all nominees have shown character and commitment to give back to their communities without any expectation of reward or recognition, this year one individual stood out for his quiet dignity and selfless service through some challenging times, inspiring community members of all ages."
The award winners in each category are as follows:
Community Event of the Year – Dancing with Celebrities
The culmination of more than six months of planning, this inaugural event at the Vonda Youngman Community Centre in October 2022 aimed to increase interaction between all community members, whatever their strengths and abilities. Since 2018, the Lions Club of Tamborine Mountain's Mountain Mates program, for young adults with a disability and their families, has focused on creating opportunities for friendship, socialising, and skills development. More than 180 people attended the first Dancing With Celebrities evening which was so successful, spreading the Mountain Mates' message of social inclusion, that it is set to become a regular event on the community calendar. Dancing With Celebrities highlighted the importance of inclusion for people with a disability, in line with the Mountain Mates' aim of creating a kinder, happier, more openhearted and accepting community.
Scenic Rim Citizen of the Year (31-65 Years) – Justin O'Leary
Since moving to Beaudesert some 17 years ago, Justin has become a role model to many through his community service and his work with people with disabilities as an National Disability Insurance Scheme (NDIS) provider. Justin was nominated for an award for his extraordinary contribution to the youth of Beaudesert and the wider Scenic Rim community. He provides training and discipline through the sport of boxing, and has provided shelter, support and lessons in self-respect to numerous young men and women whose lives have been at the point of unravelling. Justin has been a key figure in the promotion of a Police Citizen Youth Club for the local community and inspired others by his generosity, his capacity to reach out to others, and his ability to treat everyone with equality and respect.
Scenic Rim Citizen of the Year (65+ years) – Adrian Sandell
Adrian established the Kooralbyn Men's Shed after moving into the area some four years ago and seeing a need to help to men who were experiencing feelings of isolation and loneliness. He has since become a mainstay of the local community and, as the current President of the Kooralbyn Community Group, oversees not only the running of the Men's Shed but also the Op shop, Community Garden and a Crop Swap. He has supported numerous local events by organising volunteers and been involved with the Kokoda Youth Foundation, hosting a group of young members at the Men's Shed. As a member of the local Men's Group, Adrian has arranged group outings and guest speakers and, although retired, spends most days of the week and at weekends working in his volunteer roles for which he is regarded as an unsung local hero.
Mayor's Award – Gary Hamblyn
As President of the Tamborine Memorial Hall Management Committee, Vice President of the Tamborine Village Lions Club, Past President of the Tamborine and District Citizens Association, and a member of the Tamborine Cenotaph Committee, Gary was nominated for his community involvement across many local groups including the Scenic Rim Regional Cadets. Gary has been involved actively with numerous local groups since 1995, either as a member or executive officer, and is a respected community member known for his readiness to lend a hand or offer advice. The Mayor's Award recognises Gary's quiet dignity and selfless service through some challenging times, which have inspired community members of all ages.
https://boonah.org.au/wp-content/uploads/2023/01/Australia_Day_2023_winners___web.jpg
570
700
Kate
https://boonah.org.au/wp-content/uploads/2017/11/boonah-logo-png.png
Kate
2023-01-26 12:36:55
2023-01-30 12:37:53
Community champions celebrated at Scenic Rim Australia Day Awards