Owning, managing and working in a small business can be incredibly tough. The uncertainty, inconsistency and heavy work load can all cause increased anxiety. Over the last few years the impacts of COVID have definitely taken their toll and continue to with staff shortages and forced isolations.
This stress has physical, mental and emotional impacts on us humans and can leave us feeling exhausted, isolated and anxious.
The tools of yoga will not protect you from COVID, nor will they reduce business costs or increase revenue, but they will equip you will the ability to accept and stay calm. They may help improve your sleep, reduce your blood pressure, slow your breath rate, release tension from your body and create a positive connection with your colleagues.
Engaging with others can help build a sense of community and support. Thinking about your muscles and your breath, will bring you out of your head and into your body, providing a much needed anchor in uncertain times.
Funded by Wesley Mission COVID Recovery Border Community Service, this 6 week course is free for owners, staff and families of small businesses located on the NSW/QLD border who were part of the Border Bubble. Small business is considered less than 100 employees.
6 week Yoga for Anxiety Course
Starts Mon October 10
6.30pm – 7.30pm (QLD  time)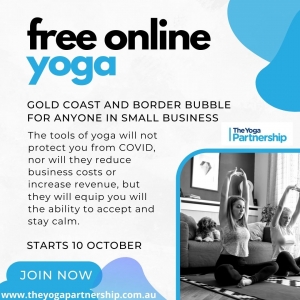 https://boonah.org.au/wp-content/uploads/2022/10/Yoga-header.jpg
328
1080
Kate
https://boonah.org.au/wp-content/uploads/2017/11/boonah-logo-png.png
Kate
2022-10-07 11:18:43
2022-10-07 11:19:36
6 week Yoga for Anxiety Course