River 94.9 FM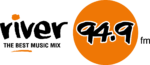 Long Business Description
Our region has changed so much over the past 26 years, and River 94.9 has grown up with you – to be the radio station you rely on for your truly local connection. We support our local community, because we're part of our local community. The people of our region know they can rely on River 94.9 to be there for them – always.
Need entertainment? – then tune to River.
Need the latest news and traffic? – then it's on River.
Need a helping hand? – then ask River.
River is with you wherever you are – at work, at home, at play, and in the car. River is with you always – anytime, anywhere.
Send Message to listing owner