proof reading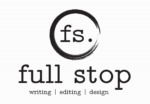 Long Business Description:
Full Stop's extensive range of design, writing and editing services will take your print and online material to the next level. Choose to utilise one service or a combination of the following:
● Writing: If you know what you want to say but not sure how to say it, Full Stop can write it.
● Proofreading: Full Stop identifies and corrects any spelling, punctuation and grammatical errors to ensure optimum, professional quality.
● Editing: More comprehensive than proofreading, Full Stop's editing service focuses on content, tone and structure to ensure an articulate, superior piece of writing.
● Design and desktop publishing: Using Adobe InDesign, Illustrator and Photoshop, Full Stop creates captivating and professional documents and graphics. This service also includes typesetting.
Full Stop also offers a start-up package for new small businesses.