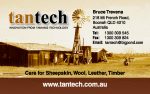 Long Business Description
Tantech Pty Ltd manufactures sheepskin, leather, natural fibre and other care products. We also home brand for well known companies.
Our UGG Boot, Felt Hat Care Kits are stocked by Maynards Store and our Oilskin & Canvas reproofing products are stocked by Far Outdoors.
We have an extensive range of Wool & Fibre detergents available on line as well as Insect Repellent Horse Rug Detergents & Reproofers.
Business Address
218 Mt French Rd, Boonah 4310
4310